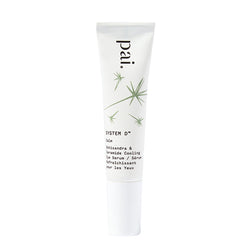 System D (Sérum pour les yeux rafraîchissant Schisandra et Céramides)
Prix hors frais de livraison
System D est un sérum contour des yeux frais et léger à la texture gel qui apporte un soulagement instantané grâce à ses actifs apaisants, aux céramides et à l'applicateur en céramique rafraîchissant. Ensemble, ils calment le contour de l'œil pour une protection longue durée.
Appliquer le sérum hydratant directement sur le long du contour de l'œil à l'aide de l'applicateur en céramique rafraîchissant. Tapoter délicatement pour s'assurer que le sérum est complètement absorbé. À utiliser le matin et/ou le soir, ou pendant la journée pour une sensation de fraîcheur instantanée.
AQUA (water), CITRUS AURANTIUM DULCIS FRUIT WATER* (orange fruit water), GLYCERIN (organic derived vegetable glycerine), CHONDRUS CRISPUS POWDER, SODIUM LEVULINATE, OPHIOPOGON JAPONICUS ROOT EXTRACT (mondo grass extract), SODIUM ANISATE, SCHIZANDRA PHENANTHERA FRUIT EXTRACT (schisandra extract), ACACIA SENEGAL GUM (gum arabic), XANTHAN GUM, GLYCOSPHINGOLIPIDS, SODIUM DEHYDROACETATE, SODIUM HYALURONATE, MALTODEXTRIN, GLYCOLIPIDS, TOCOPHEROL (vitamin e), LYSOLECITHIN, SCLEROTIUM GUM, PULLULAN, BETA-SITOSTEROL, LACTIC ACID, SQUALENE, SILICA. *INGRÉDIENT BIOLOGIQUE 83.6% ORGANIC OF TOTAL MINUS WATER & MINERALS 20.2% ORGANIC OF TOTAL INCLUDING WATER & MINERALS 99.9% NATURAL
Judge.me vérifie automatiquement les avis en fonction de l'historique des commandes de chez Cosmeticary.com. Si les avis ne sont pas associés à des commandes existantes (par exemple, provenant directement des sites Web Cosmeticary.com), Cosmeticary.com peut demander une vérification manuelle en soumettant une preuve des commandes.
Un badge d'acheteur vérifié est ajouté une fois l'avis vérifié par Judge.me. Le badge peut être traduit et personnalisé, mais ne peut pas être ajouté par Cosmeticary.com même.
Demander un avis
Cosmeticary.com envoie une demande d'examen par e-mail aux clients en fonction des paramètres et des conditions. Des rappels automatiques ou des notifications Web Push peuvent être activés. Cosmeticary.com peut également demander un avis à d'anciens clients, ne pas envoyer de demande d'avis automatique ou demander/rappeler des utilisateurs individuels. Cosmeticary.com peut répondre en privé ou publiquement à n'importe quel avis.
Donner un avis
Le client peut laisser un avis dans le formulaire d'avis par e-mail ou via le widget d'avis. Les avis sur les produits sont soumis via le widget d'avis, tandis que les avis sur la boutique sont soumis via la page Tous les avis. Les visiteurs peuvent laisser des avis sans historique d'achat (traçable) (« avis Web »). Ceux-ci peuvent être désactivés mais ne recevront jamais de badge "Acheteur Vérifié" si l'e-mail de l'évaluateur ne fait pas partie de la liste des clients de la boutique. Les avis fournis par le même e-mail auront le même nom d'affichage.
Les avis sont toujours volontaires. Cosmeticary.com ne paie pas leurs auteurs pour les rédiger.
L'adresse électronique que le client fournit ne sera pas publiée et n'est utilisée qu'à des fins de vérification.
Modifier la politique
Les avis peuvent être modifiés pour résoudre des fautes de frappe, des problèmes de style/de formatage ou des informations d'avis mineures. Cependant, les classements par étoiles ne peuvent pas être modifiés pour maintenir l'intégrité des avis sur Judge.me. Après une modification, un e-mail de notification est envoyé au réviseur l'informant de tout changement. L'examinateur peut refuser toute modification en cliquant dans l'e-mail de notification. L'équipe Judge.me est informée de toutes les modifications de révision et des refus de révision.
Méthode de calcul des étoiles
Pour la note globale du produits, tous les avis donnés sont pris en compte pour en faire la moyenne.
Examen de la curation
Cosmeticary.com a un contrôle total sur la publication et le masquage des avis et les nouveaux avis sont publiés automatiquement par défaut. Les marchands peuvent activer la curation des avis pour choisir les avis à publier manuellement.
Cosmeticary.com met tout en œuvre pour garantir que le contenu des avis est utile et honnête. Les avis peuvent être supprimés s'ils ne sont pas conformes à notre politique en la matière.
Les contributions doivent être fondées sur des expériences et des informations réelles. Le contenu intentionnellement faux, le contenu non pertinent, le langage diffamatoire, les attaques personnelles et le contenu inutile ou incorrect sont tous contre notre politique.
Cosmeticary.com se réserve le droit de désactiver les contributions ajoutées par les clients pour éviter les abus. Cosmeticary.com se réserve également le droit de supprimer le contenu qui enfreint nos politiques.
Le contenu que Cosmeticary.com surveille et désactive lorsqu'il est détecté est le suivant :
Contenu dangereux ou dénigrant

Contenu menaçant ou incitant à l'automutilation, ou menaçant ou incitant à nuire à autrui.
Contenu qui harcèle, intimide ou offense un individu ou un groupe.
Contenu incitant à la haine ou à la discrimination à l'encontre d'un individu ou d'un groupe, ou dénigrant un individu ou un groupe en raison de sa race ou de son origine ethnique, de sa religion, de son handicap, de son âge, de sa nationalité, de son statut d'ancien combattant, de son orientation sexuelle, de son sexe, de son identité sexuelle ou de toute autre caractéristique associée à une discrimination ou une marginalisation systématique.
Spam ou contenu incorrect

Le même contenu posté plusieurs fois.
Contenu pour le même produit provenant de plusieurs comptes par le même réviseur.
Contenu non pertinent

Contenu qui n'est pas basé sur l'expérience de l'évaluateur dans l'achat d'un bien ou d'un service auprès de l'entreprise où l'évaluation est publiée.
Contenu contenant des commentaires politiques ou sociaux ou des diatribes personnelles.
Publicité

Le contenu qui contient des appels à l'action ou des offres de vente de produits ou de services.
Contenu offensant

Comportant un langage ou des gestes obscènes, diffamatoires ou offensants.
Contenu sexuellement explicite

Contenu contenant des éléments sexuellement explicites.
Usurpation de l'identité

Contenu attribué à des personnes, des organisations ou des sociétés que l'auteur n'est pas autorisé à représenter.
Conflit d'intérêts

Contenu qui n'est pas équitable ou impartial, tel que :
Une critique écrite sur la propre entreprise de l'auteur.
Un bilan sur une expérience professionnelle actuelle ou passée.
Un avis malhonnête destiné à influencer l'évaluation d'un concurrent.
Contenu illégal

Contenu illégal ou présentant des activités illégales.
Signaler un avis potentiellement faux
Le client peut signaler un avis potentiellement faux en adressant un mail à shop@cosmeticary.com. Cosmeticary.com cherchera dès lors à savoir si l'avis signalé est effectivement un faux avis et s'il y a lieu de le supprimer. L'auteur de tout avis signalé ou suspect sera systématiquement contacté par mail afin de justifier son avis et éventuellement de fournir la preuve d'achat. Tout avis signalé ou suspect non justifié dans les 72 heures sera systématiquement supprimé.
Livraisons par BPost
Les coûts de livraison :
Pour la Belgique : € 5,25 (offerts à partir de 60€ d'achat)
Pour les Pays-Bas et Luxembourg: € 6,95
Pour L'Allemagne et la France métropolitaine: € 7,95
Pour le reste de l'Europe (hors DOM TOM) : € 14,95